e@UBCO Team
Innovation Manager, Entrepreneurship, UBC Okanagan (e@UBCO)
Cell 780-722-6663 | sandra.spencer@ubc.ca | UBC Okanagan Campus | ADM006 – 1138 Alumni Avenue

---
Sandra Spencer has worked in the entrepreneur & innovation ecosystem for the past 10+ years, most recently within the Okanagan following a move from Alberta in 2021. Sandra joined UBC Okanagan as Innovation Manager in June of 2022, supporting industry partnerships, commercialization and entrepreneurship for the campus community.
Prior to that, Sandra was a Sr. Innovation Advisor with Innovation Canada supporting companies of all sectors and sizes across BC and Yukon in identifying resources and supports to grow their companies – she worked with well over 100 companies and dozens of service providers to build out her network in BC. In addition to this work, Sandra incorporated her company Nimble Strategizing in 2017 to provide additional opportunities to work directly with startups and support organizations in areas of raising capital, commercialization, and business modelling through coaching and program delivery. 
Prior to her move to BC, she spent 2 years building and running the University of Alberta Health Hub & Accelerator supporting 30+ researchers, faculty and students in validating their business models and getting their health technologies to market – a program that has now evolved into Applied Pharmaceutical Innovation. Sandra is passionate about coaching entrepreneurs toward viable business models and developing long-term growth strategies, as well as working with organizations to develop and deliver programming for entrepreneurs and investors.  
Program Manager, Entrepreneurship, UBC Okanagan (e@UBCO)
kayla.cartlidge@ubc.ca  | UBC Okanagan Campus | ADM006 – 1138 Alumni Avenue 
---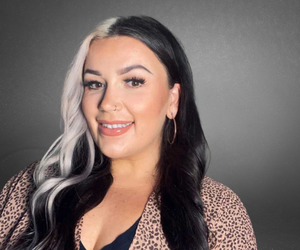 Kayla Cartlidge joined e@UBCO as the new Program Manager in January of 2023. She is responsible for developing and managing both new and existing initiatives of e@UBCO, developing operational policies internally for the organization, and the overall day-to-day operations. Kayla oversees the data analytics needs of the unit, regular analysis and reporting to multiple stakeholders, and the organization and administration of software systems to support venture success.
Kayla holds an undergraduate degree from the University of Ottawa in Second Language Teaching and completed her minor in Gender Studies at the University of Alberta. Paired with a post-grad diploma in HR Business Management from McMaster University, she is also a designated Certified Human Resources Professional (CHRP).
Kayla leverages over 6 years of Operational and Leadership experience in various sectors. Passionate about entrepreneurship, operations, human resources, social and environmental sustainability, and equity diversity and inclusion (EDI) in the workplace.
Community Coordinator, Entrepreneurship, UBC Okanagan (e@UBCO)
darnel.stpierre@ubc.ca | UBC Okanagan Campus | ADM006 – 1138 Alumni Avenue

---
Darnel St Pierre started as the Community Coordinator in April 2023. Darnel is responsible for supporting the e@UBCO programs through a community-focused lens to help build and sustain the entrepreneurial ecosystem. This includes the implementation of an engagement strategy across the complex stakeholders community, including researchers, students, industry mentors and faculty/staff on campus that support entrepreneurial initiatives.  He oversees the e@UBCO brands and user experience and executes the program's marketing, communications and events.
Darnel completed an undergraduate degree in Communications with a minor in Digital Publishing at Simon Fraser University. Five years of marketing experience in the tourism industry and a couple of years as a freelance video producer has afforded Darnel multimedia expertise and adept project management skill. During the height of the pandemic, Darnel supported tourism stakeholders in British Columbia to integrate sustainability into their operations, strategy, and storytelling. Elevating progressive ideas and voices and finding ways to promote sustainability and social equity are among Darnel's passions. He also highly values storytelling, community building, innovation and creativity.
Entrepreneur in Residence, Entrepreneurship, UBC Okanagan (e@UBCO)
ty.summach@ubc.ca
---
Passionate about supporting the local leaders of tomorrow, Ty officially joined e@UBCO as the first Entrepreneur-in-Residence (EiR) in September of 2022. With extensive entrepreneurial experience, Ty brings expertise and guidance to all of the mentors and ventures with @UBCO. Ty's role includes leading mentorship efforts and working one-on-one with UBCO-based entrepreneurs to provide guidance and support on the journey.
Known as a "triple threat" amongst his peers, Ty has held the role of Chief Operating Officer, Chief Product Officer and Chief Marketing Officer, all while navigating teams from the private markets to the public markets and through various mergers and acquisitions.
Beyond spending time with his young family and recently founding his latest start-up within the Creator Economy, Ty is also an Executive-in-Residence (EiR) at Accelerate Okanagan.